One of the most active blockchain ecosystems on the market for digital assets is Ethereum. Users can interact with a variety of decentralized applications (dApps), such as play-to-earn games, NFT marketplaces, and other dApps, thanks to the Layer-1 blockchain's smart contract support. After Bitcoin, it currently has the second-largest market cap.
To be a part of the Ethereum ecosystem and store, send, and receive ETH and other crypto assets based on Ethereum safely, you need an Ethereum wallet. In this article, I'll talk about an electronic wallet that serves this purpose. More specifically, what you need to know about the best Ethereum wallets for 2023.
What is an Ethereum wallet?
An Ethereum wallet is a program that allows you to manage your Ethereum account. It lets you see how much Ethereum you have, send and receive money, and connect to other apps. Multiple Ethereum accounts can also be managed by the same app. It comes in four different kinds, which are:
Physical hardware: These wallets are very safe and let you store your cryptocurrency outside of the internet.
Mobile applications: With these resources, you can access your money from anywhere.
Web wallets: This allows you access to your crypto account through a web browser.
Desktop applications: You can access your accounts and manage your funds via different computer OS, such as Windows, macOS, Linux, etc.
You can switch wallet providers at any time, and many of them allow you to manage multiple Ethereum applications from a single application.
What are the basic wallet criteria?
It can be challenging to select an online ETH wallet for your cryptocurrency storage needs because there are so many Ethereum wallets available on the market. I believe that these fundamental requirements will help you pick the secure wallets:
Private keys – Wallets in which you have control over your private keys.
Ease of use – Elegant user interface for ease of use.
Development community – A vibrant development community.
Backup & security – Backup and restore features.
Compatibility – Compatible with different OS.
NFT support – Allow you to buy, sell, and view your NFTs.
The security of your coins may be compromised if your wallet does not have one of these functions. Make sure a wallet meets these requirements before entrusting it with your cryptocurrency.
The best wallets for all Ethereum users
This is the oldest Bitcoin hardware wallet and is widely regarded as the best Ethereum wallet available. Trezor is a hardware wallet that uses a USB flash drive to store your funds. It is compatible with over 1000 cryptocurrencies, including Bitcoin, Litecoin, Ethereum, and Ethereum Classic. Trezor works with Mac OS X, Windows, and Linux.
All that matters is safety. The PIN is never taken out of the wallet. This makes it harder for hackers to get to your money. The wallet's enhanced security means that it isn't ideal for quick trading.
Metamask is always at the top of the list when discussing Ethereum wallets. The most popular Ethereum wallet, originally accessible as a browser extension, is now also available as a mobile application.
It works similarly to a browser to access the Ethereum network. It allows you to not only store and send Ethereum, but also to access decentralized Ethereum apps. It has an easy-to-use interface that allows you to quickly switch between the Ethereum network and other L1 and L2 solutions.
To get the most out of Metamask, pair it with a hardware wallet like the Ledger or Trezor. This way, you protect your wallet while also protecting yourself from hackers.
The Ledger Nano X is an advanced Ethereum wallet that offers the type of security normally found only in custodial cryptocurrency wallets. The Nano X is similar to USB flash drives in that they are plug-and-play devices. After installing the software, you can use it to store cryptocurrency. It is compatible with Ethereum and all Ethereum blockchain tokens.
This is the popular Ledger Nano S's successor. Ledger Nano X comes with a battery and Bluetooth, both of which make it easier to move around. Also, you can keep track of more coins at once.
Another Ethereum wallet that has been around for a while is MyEtherWallet. Ledger and Trezor hardware wallets are supported by MyEtherWallet. Additionally, rather than being kept on a server, your money is kept on your computer. Compared to other conventional web wallets, it is unique.
It is an open-source product that is simple to use, has amazing support, and is available as a desktop and mobile application. MyEtherWallet provides a more secure non-custodial solution because your money is kept on your computer rather than off-site on a server.
Zengo Wallet is one of the safest non-custodial wallets on Web3 because it doesn't store your private key. This makes it the easiest and safest way to invest in cryptocurrency. In less than a minute, you can make an account and be the real owner of your crypto.
This wallet gives you a self-custody wallet where you don't have to worry about keeping track of seed words. All you have to do is download the wallet, set it up with your email address, and use your face as the encryption.
Exodus is the first desktop wallet that can store more than one type of cryptocurrency. It is free to use and has a nice user interface. When you open the Exodus wallet, all of your coins will be shown in a pie chart. It's a great wallet for people who are new to Ethereum. The wallet is a free app for your desktop that also comes with a free app for your phone. It works on Windows, Mac OS X, and Linux.
You can also use features like email recovery with one click and backup seed keys to get your wallet back and make sure your money is safe.
One of the best options for Ethereum and ERC20 tokens is Atomic Wallet. With the wallet, you can store, trade, and purchase ETH using a credit card. Future Ethereum trading will be possible with Atomic Swaps, a fully decentralized cryptocurrency exchange that does not use middlemen.
Your private keys are encrypted on your device by the wallet, giving you complete access to and control over your money. Almost every desktop operating system as well as every Android and iOS device can use it.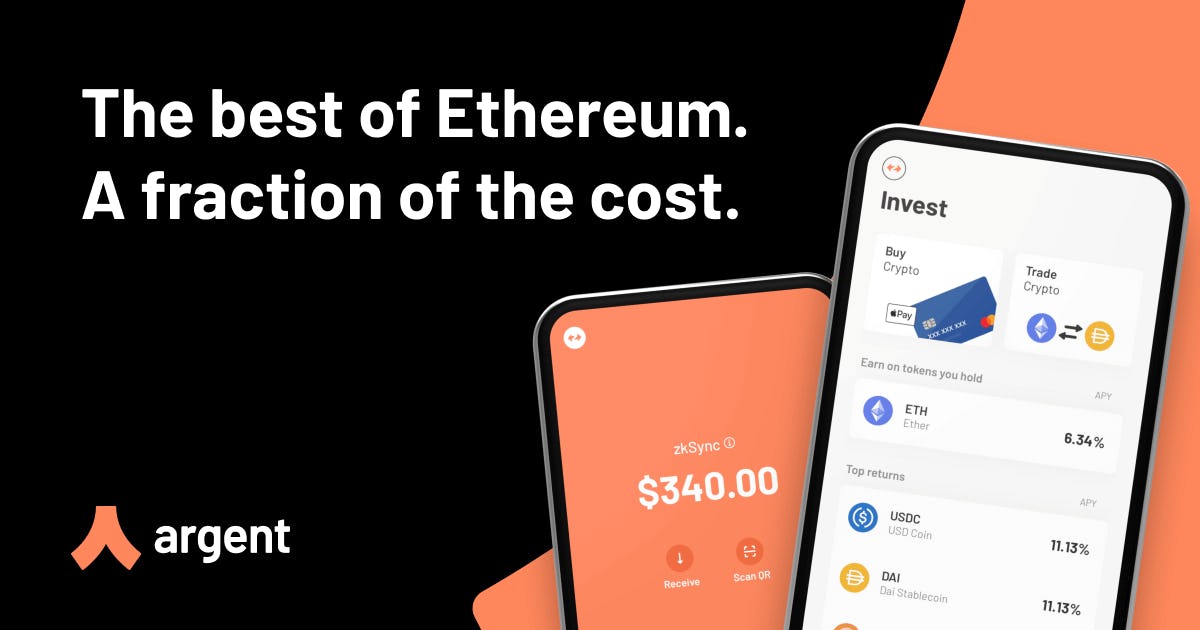 I will be finishing off my list of the best Ethereum wallets with Argent, an advanced non-custodial ETH wallet that does not let you store the private key. The integration with Compound finance, which allows you to lend Ethereum and earn interest, is a unique feature of this wallet. A dApp browser is also included in the wallet. If you want a non-techie family member or friend to use an Ethereum wallet, Argent is the most user-friendly.
Conclusion
Your needs as an Ethereum user or investor will determine which Ethereum wallet is best for you. There are many options in this article if you want to actively engage with Ethereum-powered decentralized applications online, including dApps, DeFi applications, and NFT marketplaces.
On the other hand, Atomic is a good choice if you want to buy ETH easily with a bank card, and Trezor Model T is a good choice if you want a wallet with a high level of security. MyEtherWallet is your best option if you're looking for a more advanced wallet that enables you to use Ethereum smart contracts.
Finally, you should be aware that the advantages of using some of these wallets come with difficulties, such as the complexity and difficulty, as well as the attraction of malicious actors. Also, the security of each wallet ultimately begins with the user.